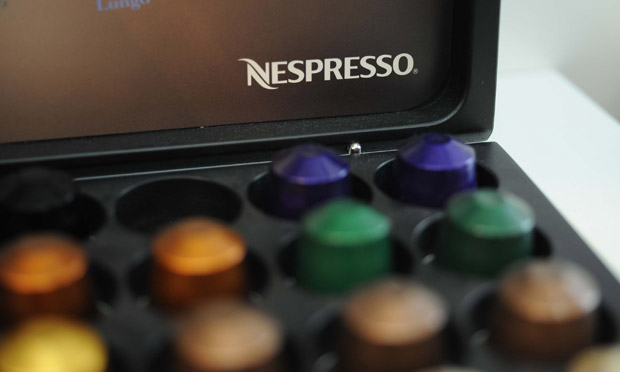 The number of brands on the market can make your decision a tricky one; how can you decide which coffee machine to buy when there's so many to choose from? Here at Compare Coffee Machines, we realise it's a difficult decision and make it an easier one for you.
We've done the hard work for you and tested the most popular brands on the market to identify the best.
Some brands will be familiar and others may be new to you. Either way, if they're on our list, it's a name you can trust.
Bosch
A name well known for kitchen appliances, Bosch entered the coffee machine market some time ago but received little recognition. This is predominantly because their earliest efforts were machines manufactured by Bosch for other brands, such as Tassimo.
Recently however, Bosch have started to manufacture their own coffee machine focusing on Bean-to Cup. As you might expect, the machines are very cost effective and superbly reliable. The company have a great reputation as manufacturers and their customer service is second-to-none.
Some may be put off by the top end of Bosch's range but don't panic, the company make both domestic and commercial machines. You won't be paying £3,000 for a domestic machine, we can assure you. Their budget range starts from just £35 and every price bracket is covered, right up to the hefty sums many businesses pay for commercial machines. The mid-range offerings will set you back around £100 and it is well worth the expense. This is owing to Bosch's super customer service, excellent warranty options and delicious product.
Though, you are somewhat restricted to Capsule or Bean-to-Cup machines. Bosch rely more on technology and automation than manual operation. There is a range of Filter machines on offer but they are inexpensive and don't seem to be made to last.
The reviews for Bosch's offerings have been universally positive and generally receive between four and five stars. Our reviews page offers our take on Bosch's machines.
Bialetti
Most will associate the Bialetti name with an iconic design of kettle, but they have now branched into Capsule and a small range of Bean-to-Cup machines Unfortunately, the brand is focused on style (their machines resemble their swish kettle designs) over substance. Brilliant news for some, but not for others.
There is a lot of confusion surrounding Bialetti's Capsule machines – there is no real indication as to which brand of Capsules the machine accepts. Their advertising and packaging is covered in their own livery giving no explanation as to whether they produce their own pods or employ a third party.
We can actually confirm they make their own pods. These can be ordered via a number of websites ,or purchased in premium supermarkets. As a brand, Bialetti are very expensive and restrict the availability of their products.
The overall message from Bialetti is that style is everything. In general, the reviews are favourable but they do tend to focus on the low prices. £270 is the most Bialetti charge but don't be fooled – 160 Capsules costs £40, not cheap.
If you're looking for a designer kitchen ornament that you will occasionally use to brew coffee then Bialetti for you. Though, if you intend to use your coffee machine for its actual purpose, look elsewhere.
Russell Hobbs
One of the UK's best known kitchen brands. Russell Hobbs are well known for manufacturing affordable kitchen appliances and offer one of the best ranges of coffee machines on the market. Whilst they only focus on Bean-to-Cup and Filter varieties, they manage to produce truly superb machines by doing so.
There is no Capsule system on offer with Russell Hobbs and the company are clearly believe that the more traditional systems are still viable options. The Bean-to-Cup machines are very compact but there aren't too many varieties. In fact, there's one main design that offers additional/improved features with increasing cost.
If anything, Russell Hobbs have stubbornly concentrated on refining the Filter machine design. A seemingly odd decision as the process can't overly be sped up, the slow infusion is key to the product. That said, they have invested a lot of effort to ensure their machines produce the highest quality brew.
Typically, Russell Hobbs best offerings come as part of their expensive premium range of Filter machines. They actually offer an in-built grinder and a cross over of styles sees the operating effort reduced but this comes at a steep cost. The starting price is around £240.
The average machine is just £90 but the compromise on features leaves you with a very basic machine.
Some of the budget models do include a grinder but this doesn't seem built to last. From experience, plastic grinding wheels have a very limited life-span, especially if used regularly. It's worth spending the extra money to ensure the product lasts.
Russell Hobbs do produce machines that are good value for money but in the instance of coffee machines, they appear to be extorting the market slightly. You really do get what you pay for here and it's better to stick with the top end models.
DeLonghi
Another well known name in kitchen appliances, we give you DeLonghi. DeLonghi  are one brand pushing the limits of acceptability as far as their pricing goes. Their highest end domestic models cost in excess of £1,400. The top end model combines features from Filter, Espresso and Bean-to-Cup machines but this is only useful for an indecisive user with money to burn.
Even at the mid-range, DeLonghi are charging roughly £230. This just isn't acceptable when you compare their offerings to that from Bosch or Russell Hobbs. The DeLonghi Capsule range is manufactured for the inexpensive Nespresso range, a positive given the hefty purchase prices. The entry level Capsule machine is £119 – a little too much for most.
Sadly, DeLonghi also aren't going to win too many fans over with the appearance of their machines. They're mainly very blocky and disproportionately large for their function, finding a suitable place in your kitchen will be a struggle. We also found the Capsule machines to be very large.
The coffee machine market is currently heavily congested and DeLonghi aren't convincing too many people of their credentials. Their inflated prices and ugly designs left us displeased and there are simply better, cheaper and more attractive options available. Good coffee is just not enough to convince consumers.
Krups
German brand Krups have produced some of the best looking designs we've seen. They combine Espresso and Bean-to-Cup systems to create very functional machines that are practically automated. Their typically efficient design and truly superb functionality means Krups gains a strong place in the market, however, it's not all good.
Krups machines are generally quite expensive; a mid-range Bean-to-Cup machine will cost around £330. That said, their hefty price tags are undoubtedly justified. Excellent aftercare is complimented with a two year warranty and a guarantee that Krups will personally repair a faulty machine out its of warranty for a nominal fee.
Nescafe have partnered with Krups for their Nespresso machines and the prices are far lower. In fact, a Krups Nespresso machine will set you back just £100. A great price for a Krups machine in a market saturated with Capsule systems. The pods are very inexpensive, making for an added bonus.
To cover all bases, Krups also produce a superb entry level range of Filter machines for under £50. Plus, these are still covered by Krups' excellent warranty. A price that is utterly superb for such a well manufactured product with brilliant aftercare.
Krups have made huge steps in the market and we have no doubts they will soon dominate the market. If only they could reduce the prices on their mid-range machines!
Morphy Richards
A very limited range of products at low prices make Morphy Richards an interesting prospect. The most expensive item in their range is an automated Espresso maker costing £115, barely breaking the bank.
There is a keen focus on the Filter machine style as these take much less time and effort to design and manufacture. Though, they do offer three very reliable, attractive Espresso machines to their customers at exceptionally low prices. It makes you wonder why you'd choose any other brand.
As yet, Morphy Richards aren't producing Capsule machines which is something of a drawback if you have a taste for the more exotic flavours. That said, there's a clear no nonsense message with Morphy Richards – simple and effective.
There's not too many adornments with their machines. Their target market is essentially those who want to buy a coffee machine that makes simply coffee. No milk steamers or instant re-heat systems, you're better to look to DeLonghi or Bialetti for these bells and whistles.
Alongside their simple systems, Morphy Richards offer a two year guarantee but it's rather complex. The purchase receipt is essential to the process and you must register the machine on the day of purchase. If the machine is replaced during the two years, the remaining guarantee refers to the original purchase, not the replacement. An unnecessary headache for such a low cost item.
Which Brand Should I Buy?
To determine which brand is the best for you, read through our expert in-depth reviews. These will afford you an idea of which machine offers the best options, you can then consult our step-by-step buying guide to get the best deal.
Our advice is impartial and will always be free thanks to our in house team of researchers and experts.